Team Challenge Week 3 - You are the weakest link, goodbye..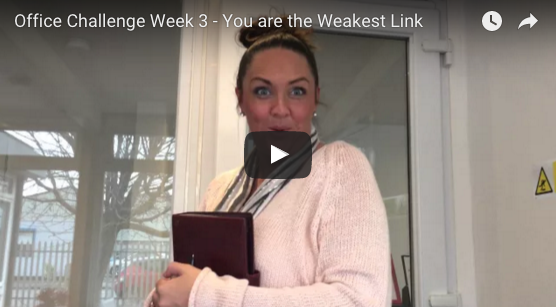 Team Challenge Week 3 is here, it's been great to move in, build the furniture and install the 'Clear Desk Policy' BUT how well do the contenders know the industry and trade they are in? Do our contenders have the eagle-eye and knowledge required to succeed in the Office Quiz?
The contenders and their team names this week are as follows:

Marketing: Sharon of Super Sonic Sharon
Social Media: Kirsty of KA Rocks!
Projects: Robyn of #TeamAwesome

Director Samantha cast herself out the running for this weeks challenge as she became the 'Anne Robinson' of the quiz to pitch 5 questions to the contenders. Sadly, there wasn't any cash up for grabs - only the office bragging rights were there for the taking. As the 3 contenders eyeballed each other from 3 corners of the room, covering their answers as each question was read out, you could feel the tension build, each contender wanted this award badly!

The questions are…

1. How many miles does the average office chair travel in one year?

2. In a typical retail outlet, how many sheets of paper are in a ream?

3. How many likes did the Improve Trade Solutions Ltd Facebook page have on 25th January 2016?

4. How many social media icons are on the top right hand corner of the ITSL website?
5. What is our Glasgow Telephone number? 

The questions were done, the quiz sheets were handed back to Quiz Master Anne, sorry, Samantha as she calculated who had became the 'Improve Communications Office Quiz Champion'. As each contender stood awaiting the results, there was little small talk amongst the hopefuls, in fact, the office was in silence as the teams hoped they had done enough to win this weeks challenge. Who is your money on? Who will be the Weakest Link? Have a look at the video to find out the result….