Xero Update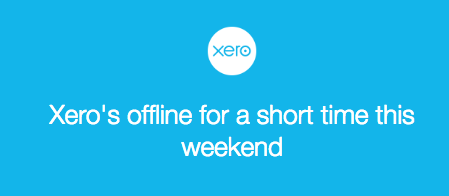 To all of our clients and friends that are using Xero, we have an update!
Payroll is being transferred on to Xero's new web hosting platform and in order to undertake the update it must go offline for a few hours.

Xero have chosen the time slot 7pm BST on Saturday the 10th of September (this Saturday) to try and avoid disrupting any businesses as it will be out of use.

To remain updated on their downtime they have a status update page which you can view here: https://www.xero.com/blog/offline-status-page/?mkt_tok=eyJpIjoiTkRBeVptRTFaamcxWW1ZMCIsInQiOiJBdWFibUlLUmhsRWNiUUM0dHVIeXJJK2N1NUFiRXIwZkJLNEVSbjFiUXBGU0NaSmU5WEpJZlJYTDIza1wvRkQ1NktCbVhZdFk5QmV3cFdiMDRhXC9JbFFuTFNiWlNha1FVeDZoNFFzeklhdDJBPSJ9

Please spread the word to all fellow Xero users!